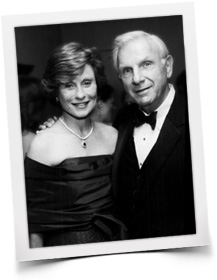 Carey Wilkerson Looney
Vice President and Secretary of The H & R Block Foundation
12:45    Money Can't Buy Change:  Henry Bloch's Philanthropic Legacy [Kansas City Room]
After 20 years of working with Henry Bloch as a gift officer, Carey offers a unique perspective on one of Kansas City's legendary philanthropists and his plan to serve Kansas City in perpetuity.
Learning Objectives:
Learn about the Bloch family's philanthropic history and gift plan that will perpetually benefit Kansas City
Learn the Foundations' missions and how to apply for grants
Participate in an interactive conversation about the nature of foundation giving, as well as local philanthropic needs.
---
About Carey Wilkerson Looney: Carey is responsible for the Foundation's grantmaking in the areas of arts and culture, education, and health and provides oversight of the Henry W. Bloch Scholars Program.  She serves as the Foundation's representative and has provided leadership for countless collaborative grantmaking initiatives including the Early Education Funders Collaborative, Heart of America Community AIDS Partnership, and United Way of Greater Kansas City.  Carey began her professional career in 1986 as a special education teacher at Genesis School; a former alternative school serving high-risk youth and was the school's deputy director prior to joining the Foundation in 1999.  She graduated from Trinity University in San Antonio, Texas and earned her master's degree in behavior disorders and learning disabilities from the University of Kansas.  Carey's reason for being: Maggie and Johnny.