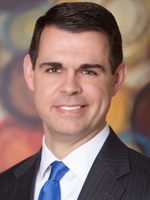 Casey Connealy
Estate Planning Attorney at Gaughan & Connealy
10:00  Special Needs Trusts + The BIG 6 Docs Everyone Needs [Troost Room]
Navigating the legal minefields that come up in Missouri and Kansas can be more difficult than you realize. But with careful planning, you can do estate planning that protects your family and your stuff. It also will allow you to leave gifts to your loved one with special needs without disrupting their government benefits, help make decisions for them while you are providing care and ensure that they have the resources available to have the best life possible. In this presentation, estate planning attorney Casey Connealy, a parent of a child with special needs himself, will explain decision-making and fundamental principles of legal decisions and structures when caring for a loved one with special needs. He will also explain the Essential 6 Estate Planning documents everyone needs, how guardianships and conservatorships work and what type of special needs trust makes the most sense for you. This is a can't miss presentation for those who want an understanding of basic estate planning and the legal structures available to plan for someone with special needs.
Learning Objectives
Discover the difference between a will and a trust
Understand the necessity and process for guardianship and conservatorship for a loved one with special needs
Learn the differences between the types of special needs trusts and how to preserve benefits for your loved one with special needs
---
About Casey Connealy:  As partner in the law firm of Gaughan & Connealy, Casey Connealy works with families to avoid probate and create estate plans that continue their legacies for generations to come. Casey is a devoted parishioner at Holy Trinity Church and has raised millions of dollars for his church's legacy society. Helping families who care for someone with special needs is also close to Casey's heart as his daughter, Olivia, is disabled due to an anoxic brain injury.