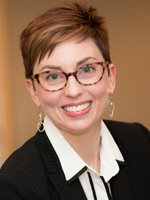 Dana J. Holt, JD RICP AEP
CEO & Philanthropic Strategist at Holt Consulting
8:45  Donor Advised Funds = Your $110B Best Friend
Everywhere you turn, people are talking about Donor Advised Funds. They've been popular for several years, but lately they're really hitting their stride. The recent tax law changes have raised a renewed interest in these powerful creatures due to "bunching."
Donor Advised Funds also stir strong feelings and heated discussions within the nonprofit community. Much of this heated discussion happens because until now fundraisers have seen DAFs as competition for charitable dollars, rather than a gigantic source of potential donations. Let's take a critical look at DAFs and discover exactly why I call them "Your $110 Billion Best Friend."
Learning Objectives:
Learn exactly WHY Donor Advised Funds have become so popular.
Learn HOW Donor Advised Funds work.
Learn HOW to start fundraising FROM Donor Advised Funds.
Learn HOW to use them to your ADVANTAGE.
---
10:00  Cows and Pigs and Chickens, OH MY! (Gifts of Agricultural Assets)  [Kansas City Room]
If you live in the Midwest, you know that farming is big business. Many of our friends and family are farmers with the bulk of their wealth tied to the farm. In recent years charities have become more savvy about working with farmers and accepting gifts of farm assets to support their charitable work in big ways! These assets may sound scary, but they don't have to be. You just need to know a few key things. In this session we will focus on EXACTLY what you need to know about gifts of crops, livestock, and machinery.
Learning Objectives:
HOW to handle gifts of crops, livestock, and machinery
WHEN donors are most likely to make gifts of farm assets
WHY these gifts are beneficial for charities and donors
DOS and DON'TS of accepting agricultural assets
---
About Dana Holt: Dana is a charitable gift planning educator, coach, and professional speaker. She teaches fundraisers how to raise millions more by accessing wealth, not just cash – and teaches advisors how to grow their practice with the power of philanthropic planning.
Before starting HOLT Consulting Dana began her career as an estate planning attorney and then spent 13 years at a Fortune 300 Financial Services company. There she helped advisors all over the U.S. with their most complex cases and taught them how to integrate charitable planning into their practice.
Now she focuses exclusively on teaching charitable planning through professional speaking and her first-of-it's-kind coaching program, Turning Wealth Into What Matters™.
Dana is a graduate of Mitchell Hamline School of Law and Southern Illinois University. She lives in Lauderdale, MN with her two retired racing greyhounds.