Welcome From Our 2021 President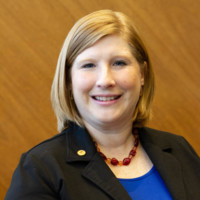 There is an old saying that goes "hindsight is 20/20".  As Mid America Charitable Gift Planners moves into 2021, we should be proud of our agility and ability to adapt to a world that was quite unimaginable one year ago.  The strength of this organization was put to the test in 2020 and we persevered.  We are not surprised by this outcome; it was aided only by the commitment of each member to pursue the value of our organization.  Mid-America Charitable Gift Planners was built by a legion of professionals who led the way in our industry and have navigated an ever-changing environment, developed relationships across professions to help each donor put together their best philanthropic plan.
Though 2021 may still look a little different we hope to begin meeting in person when it is safe to do so.  None-the-less, we have proven that our work can be done virtually. We still benefit from the support of each other whether it be through a Zoom meeting or in person.
I want to extend a special thank you to our generous sponsors. Your financial support brings quality programming and incredible networking opportunities to our members.  To our Board of Directors, thank you, for continuing to volunteer your time and resources to this organization, your dedication is unparalleled.  Lastly, to each member: you are the heart of this organization, and truly what makes MACGP great.  Please, share this experience with your colleagues, invite a friend and make 2021 the best year for you and our organization yet.
Sincerely,
Kristin M. Shore
Read more>>
Upcoming Events
November 11 – 5:30 pm to 7:00 pm – National Philanthropy Day Event in conjunction with AFP Greater Kansas City
Information and Registration here
November 12  – Are You Secure in Your IRA Knowledge: Estate Planning for IRA's After the SECURE Act 
Speaker:  Kevin M. Conley, JD, CPA
Register today
Save the Date
December 15  5:30 pm to 8:30 pm – Holiday Social hosted by KC Symphony
Read more>>
2021 Excellence in Legacy Giving Recipient: Doug Jones
Mid-America Charitable Gift Planners is pleased to partner with AFP Greater Kansas City with the Excellence in Legacy Giving award.  This is the third year MACGP has partnered with AFPKC on National Philanthropy Day to honor an exemplary planned giving relationship between a donor and charitable organization.
Doug Jones is a pioneer of philanthropy with a particular passion for theatrical arts. In 2014, he became Starlight Theatre's second-ever official legacy donor, committing to a gift that is currently the largest estimated legacy gift for the organization in Starlight's recorded history.
Through their generous legacy gift, Doug and his late husband, John Sanger, agreed they wanted to do something that would provide young kids who would not otherwise be able to attend live theatre the opportunity to do so. With a passion for Starlight, where Doug saw his very first show at age 8, the couple desired to create an avenue for students from low-to-moderate income communities to experience professional musical theatre performances. Thus, they established the Doug Jones and John Sanger Theater Ticket Fund through the Greater Kansas City Community Foundation.
National Philanthropy Day was founded in 1986 by presidential proclamation of the Association of Fundraising Professionals to recognize charitable giving in all its forms. AFPKC will celebrate this day on November 11, 2021.
Read more>>