Welcome From Our 2021 President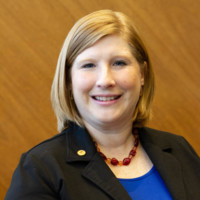 There is an old saying that goes "hindsight is 20/20".  As Mid America Charitable Gift Planners moves into 2021, we should be proud of our agility and ability to adapt to a world that was quite unimaginable one year ago.  The strength of this organization was put to the test in 2020 and we persevered.  We are not surprised by this outcome; it was aided only by the commitment of each member to pursue the value of our organization.  Mid-America Charitable Gift Planners was built by a legion of professionals who led the way in our industry and have navigated an ever-changing environment, developed relationships across professions to help each donor put together their best philanthropic plan.
Though 2021 may still look a little different we hope to begin meeting in person when it is safe to do so.  None-the-less, we have proven that our work can be done virtually. We still benefit from the support of each other whether it be through a Zoom meeting or in person.
I want to extend a special thank you to our generous sponsors. Your financial support brings quality programming and incredible networking opportunities to our members.  To our Board of Directors, thank you, for continuing to volunteer your time and resources to this organization, your dedication is unparalleled.  Lastly, to each member: you are the heart of this organization, and truly what makes MACGP great.  Please, share this experience with your colleagues, invite a friend and make 2021 the best year for you and our organization yet.
Sincerely,
Kristin M. Shore
Read more>>
Upcoming Events
December 15  5 pm to 8:00 pm – Holiday Social hosted by KC Symphony
Register Today
Save the Dates:
January 14, 2022   7:45 am – 9:00 am – Annual Meeting and Update on the Economy with Michael J. Filing, Associate Director of Portfolio Management, UMB's Private Wealth Management Group
February 11, 2022  7:45 am – 9:00 am – Monthly Meeting and Program with Corey Ziegler, Vice President & Counsel, Greater Kansas City Community Foundation
Read more>>
Welcome New Board Members
Justin Elder, J.D.

Justin loves helping people accomplish their philanthropic goals. After a successful estate planning practice in Seattle, Justin and his family moved to Kansas City where he began his planned giving career as Director of Development at Asbury United Methodist Church and as the Assistant Director of Development at the Don Bosco Centers. He now serves Jerusalem Farm as Manager of Development.
Justin serves as the Marketing and Communication Chair for MACGP.
Malcolm K. Jackson, J.D.

Malcolm joined the Gift Planning team at KU Endowment in 2019. He has been in higher education fundraising since 2017, spending his first two years solely with responsible for KU Law. Prior to that Malcolm spent 7 years worked as a licensed commercial insurance broker in New York City, and as an underwriter in Kansas.
Malcolm received his B.A. from Hobart College in Geneva, NY with degrees in Political Science and American Studies. He received his J.D. from the University of Kansas School of Law.
Malcolm serves as the Membership Chair for MACGP.
Dianna Stelter, CGPP, FCEP

Dianna joined Children International in 2018 and currently serves as the Gift Planning Program Manager.  Previously she was a trainer and branch office administrator with Edward Jones Investments and an executive assistant for Church of the Nazarene International Compassionate Ministries.
Dianna received her B.A. from MidAmerica Nazarene University with a degree in Psychology and received her M.A. in Education from the University of Kansas.
Dianna serves on the Scholarship Committee for MACGP.
Read more>>