Welcome From Our 2021 President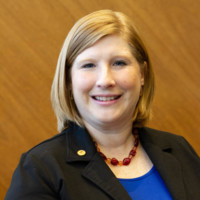 There is an old saying that goes "hindsight is 20/20".  As Mid America Charitable Gift Planners moves into 2021, we should be proud of our agility and ability to adapt to a world that was quite unimaginable one year ago.  The strength of this organization was put to the test in 2020 and we persevered.  We are not surprised by this outcome; it was aided only by the commitment of each member to pursue the value of our organization.  Mid-America Charitable Gift Planners was built by a legion of professionals who led the way in our industry and have navigated an ever-changing environment, developed relationships across professions to help each donor put together their best philanthropic plan.
Though 2021 may still look a little different we hope to begin meeting in person when it is safe to do so.  None-the-less, we have proven that our work can be done virtually. We still benefit from the support of each other whether it be through a Zoom meeting or in person.
I want to extend a special thank you to our generous sponsors. Your financial support brings quality programming and incredible networking opportunities to our members.  To our Board of Directors, thank you, for continuing to volunteer your time and resources to this organization, your dedication is unparalleled.  Lastly, to each member: you are the heart of this organization, and truly what makes MACGP great.  Please, share this experience with your colleagues, invite a friend and make 2021 the best year for you and our organization yet.
Sincerely,
Kristin M. Shore
Read more>>
Upcoming Events
**ALL EVENTS WILL BE VIRTUAL UNTIL FURTHER NOTICE**
May 14 – Gifts of Land:  Perspectives on Land and Legacy
Speaker: Lance Woodbury
Register today
July 15 – America is a Given Place – A Special Lunch Program
Speaker:  Ron Brown
Register today
SAVE THE DATES
August 13 – Charitable Gift Planning Standards
September 17 – Building Blocks Annual Conference
Read more>>
A Gift of Land: Perspectives on Land and Legacy with Lance Woodbury
Land gives us stories. Land as a gift is unique!
About this Event
Among all of the financial assets you pass on to the next generation, perhaps none is as valuable and unique as your agricultural land. Indeed, land holds a special place in our psyche: We've heard "they don't make any more of it," And, we're reminded of Warren Buffett's statement that he'd prefer all the farmland in the United States to all of the gold in the world.
In this program we will discuss the following:
1. Why farm and ranch land is a unique asset
2. Psychological or family barriers in the transfer of land.
3. Opportunities to engage families in thinking about land.
Learning Objectives for this program include:
1. Understand why land is different than most other assets.
2. Learn family business dynamics that inhibit the successful transfer of land.
3. Discover strategies for engaging potential owners of land in discussions about gifts and legacy.
Our Presenter:
Lance Woodbury provides facilitation and mediation services to family-owned agriculture enterprises working through communication and conflict, succession and strategic planning, family giving, estate planning and governance.
Read more about Lance
Agenda:
7:45 – 7:55 am Login Access
7:55 – 8:05 am Welcome and Introductions 8:05 – 9:00 am Program
Read more>>