Welcome From Our 2021 President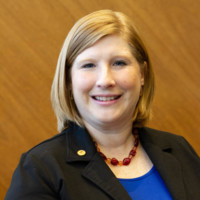 There is an old saying that goes "hindsight is 20/20".  As Mid America Charitable Gift Planners moves into 2021, we should be proud of our agility and ability to adapt to a world that was quite unimaginable one year ago.  The strength of this organization was put to the test in 2020 and we persevered.  We are not surprised by this outcome; it was aided only by the commitment of each member to pursue the value of our organization.  Mid-America Charitable Gift Planners was built by a legion of professionals who led the way in our industry and have navigated an ever-changing environment, developed relationships across professions to help each donor put together their best philanthropic plan.
Though 2021 may still look a little different we hope to begin meeting in person when it is safe to do so.  None-the-less, we have proven that our work can be done virtually. We still benefit from the support of each other whether it be through a Zoom meeting or in person.
I want to extend a special thank you to our generous sponsors. Your financial support brings quality programming and incredible networking opportunities to our members.  To our Board of Directors, thank you, for continuing to volunteer your time and resources to this organization, your dedication is unparalleled.  Lastly, to each member: you are the heart of this organization, and truly what makes MACGP great.  Please, share this experience with your colleagues, invite a friend and make 2021 the best year for you and our organization yet.
Sincerely,
Kristin M. Shore
Read more>>
Upcoming Events
**ALL EVENTS WILL BE VIRTUAL UNTIL FURTHER NOTICE**
March 12
Re-Framing the Planned Giving Conversation
Register Today
April 9
Effective Communications that Inspire Planned Giving with
Speakers: Merritt Engel, President/Principal and Monica Tiffany, Creative Director/Principal from M&C/Marketing Agency Specializing in nonprofit communications and strategy
Register today
April 30 – Planned Giving 101 Conference 1/2 Day Program
Register today
May 14 – Gifts of Land
Speaker:  Lance Woodbury
Register today
SAVE THE DATES
July 15 – America is a Given Place Special Lunch Program
August 13 – Charitable Gift Planning Standards
September 17 – Building Blocks Annual Conference
Read more>>
Welcome New Board Members

Brynne C. Brown, Esq.
Attorney
Chinnery Evans & Nail, P.C.

Timothy Dodge
Manager of Major & Planned Giving
Kansas City Symphony

Sean Easterly, CFP
Wealth Advisor
Boyer Corporon Wealth Management, LLC

Donna C. Watson, J.D.
AVP, Trust Administrator
Country Club Trust Company
Read more>>