Welcome From Our 2021 President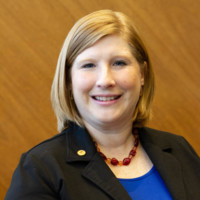 There is an old saying that goes "hindsight is 20/20".  As Mid America Charitable Gift Planners moves into 2021, we should be proud of our agility and ability to adapt to a world that was quite unimaginable one year ago.  The strength of this organization was put to the test in 2020 and we persevered.  We are not surprised by this outcome; it was aided only by the commitment of each member to pursue the value of our organization.  Mid-America Charitable Gift Planners was built by a legion of professionals who led the way in our industry and have navigated an ever-changing environment, developed relationships across professions to help each donor put together their best philanthropic plan.
Though 2021 may still look a little different we hope to begin meeting in person when it is safe to do so.  None-the-less, we have proven that our work can be done virtually. We still benefit from the support of each other whether it be through a Zoom meeting or in person.
I want to extend a special thank you to our generous sponsors. Your financial support brings quality programming and incredible networking opportunities to our members.  To our Board of Directors, thank you, for continuing to volunteer your time and resources to this organization, your dedication is unparalleled.  Lastly, to each member: you are the heart of this organization, and truly what makes MACGP great.  Please, share this experience with your colleagues, invite a friend and make 2021 the best year for you and our organization yet.
Sincerely,
Kristin M. Shore
Read more>>
Upcoming Events
August 13 – Charitable Gift Planning Standards
Speaker:  Nathan Stelter
Register today
September 17 – 26th Building Blocks Annual Conference
Register today

Save these Dates
October 15 – The Corporate Trustee – The Unsung Member of your Charitable Giving Team  Please Note Change of Date
Speaker: Donna C. Watson, JD
November 12  – Are You Secure in Your IRA Knowledge: Estate Planning for IRA's After the SECURE Act 
Speaker:  Kevin Conley
December 15  5:30 to 8:30 pm – Holiday social hosted by KC Symphony
Read more>>
2021 BUILDING BLOCKS CONFERENCE
Friday September 17, 2021    |     8:00 AM – 4:00 PM
Kauffman Foundation Conference Center and Live Streaming (Virtual)
For more details about this event, please visit
Speakers' Profiles    |   Topics     |    Register Today
Early Bird Pricing Ends August 29, 2021
MACGP and the Kauffman Foundation Conference Center are following Jackson County, Missouri directives regarding COVID-19, which could affect the in-person offering of the Building Blocks conference. We will notify all attendees of any such changes, if such changes occur, as soon as we are able. Your flexibility is sincerely appreciated.
Topics cover the many aspects of charitable gift planning that fund raising professionals and allied professionals need to broaden their understanding of charitable gift planning during changing times.
The keynote is Bryan Clontz, Ph.D., CFP®, CAP®, President, Charitable Solutions LLC, Jacksonville, Florida.  Additionally, eight national and regional experts will share insights and answer question regarding
– Structuring CGAs and CRTs
– Data and donor engagement
– Donor retention
– Family dynamics in planned giving
– The US economy
– Complex issues when working with donors and clients with dementia
– Building strong relationships and increasing planned gifts
Don't miss the opportunity to build your network, advance your career and expand your expertise.
Continuing Education credits will be available.
Partially sponsored by:  Children's Mercy Kansas City, Commerce Bank, KU Endowment, and University of Central Missouri
Read more>>