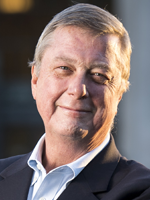 Jeff Comfort
Vice President, Principal Gifts and Gift Planning – Oregon State University Foundation
11:00 Topic: IRAs: The Queen on Our Chessboard [Kansas City Room]
$8 Trillion in IRA assets…and growing. Some will go to charity during the donors lifetime. What are the rules? More importantly, how can we inspire more so-called IRA Charitable Rollover gifts? Much more will come to charity at a donor's death. Do you think most donors know about this option? Nope. How do we best get the word out? IRAs are the most powerful and flexible piece on philanthropy's game board. Let's play to win! Oh, and a few words about inheritor IRAs just, because…
Learning Objectives:
How to best market and design IRA beneficiary designations
Update on Inherited IRA issues
IRAs designated to life income gift plans
---
1:30 Life Lessons in Gift Planning
Like it or not, we are all students of life, every single day. The world of gift planning provides ongoing panoramas of every perspective on life. What is your favorite donor story, and what did you learn? To be our best in our profession, we must be ongoing students of gift planning, as well. Most of everything we know, we have learned from someone else. This presentation will delve into centuries of experience from every facet of our field including donors, prospects, colleagues, advisors, relatives, and others. Planned giving didn't start yesterday, and it won't end tomorrow. What may seem new today, is often a rhyme from the past, and a lesson for tomorrow. Let's walk a path of lessons learned in planned giving…
Learning Objectives:
How to be a better listener.
Who's prospects are they really?
---
About Jeff Comfort:  Jeff has 35 years of gift planning experience. He currently is vice president of principal gifts and gift planning at the Oregon State University Foundation, where he provides strategic leadership to the gift planning program and oversees the staff that assists donors in making deferred, assets-based or complex gifts to the university. Year in and year out, gift planning provides over 25% of total fundraising at OSUF.  He spent 18 years at Georgetown University, where he oversaw university-wide gift planning efforts resulting in approximately $500 million of gift commitments and receipts in his tenure. Before arriving at Georgetown in 1995, he spent 11 years in Denver directing the gift planning program for the National Jewish Medical and Research Center. As a volunteer leader of PPP (formerly the National Committee on Planned Giving), Jeff served as president, chaired the 10th National Conference on Planned Giving and was a member of the NCPG board of directors for five years. Additionally, he was a member of the ethics committee and chaired the task force on gift valuation.